The Program of Accompanying Research for Agricultural Innovation (PARI) will fund the participation of 10 African students at the 7th African Conference of Agricultural Economists & 60th Annual AEASA Conference.
The theme for the conference is "Through Crisis: Building Resilient and Sustainable Agri-food Systems in Africa". Jointly organized with the Agricultural Economics Association of South Africa (AEASA), the conference will take place on 18-21 September 2023 in Durban, South Africa.
The conference will explore recent developments in agricultural systems across Africa, and how we can help change the fragile nature of African agriculture and food system. Together, we will strive to find pragmatic approaches for effective changes needed to build a more resilient and sustainable African agriculture. One thing that remains constant – everyone eats. Building a sustainable food system is the right thing to do. In order to accelerate the adoption of the use of sustainable food sources, we need research studies and development actions from every stakeholder in the value chain. The Conference will reflect on a wide range of areas, from healthcare delivery to policy development and dissemination and climate change consideration. This conference will bring together leading scholars, policymakers, agribusiness representatives and development practitioners to examine how successive exogenous crises affect and shape agricultural development and the food system in Africa.
The grants will cover the participation costs for students and early-career researchers whose papers will be accepted for the AAAE & AEASA Conference. This is a great opportunity for students and early-career researchers to share their research findings, network with colleagues in their field, and gain valuable exposure. To be eligible for the grants, students and early-career researchers must have had their papers accepted for presentation at the conference and must be duly registered members of the AAAE or AEASA. The grants will cover the costs of some of the following areas: registration, travel, and accommodation.
Eligible students and early-career researchers are encouraged to apply for the grants. For further information and application please refer to the conference website.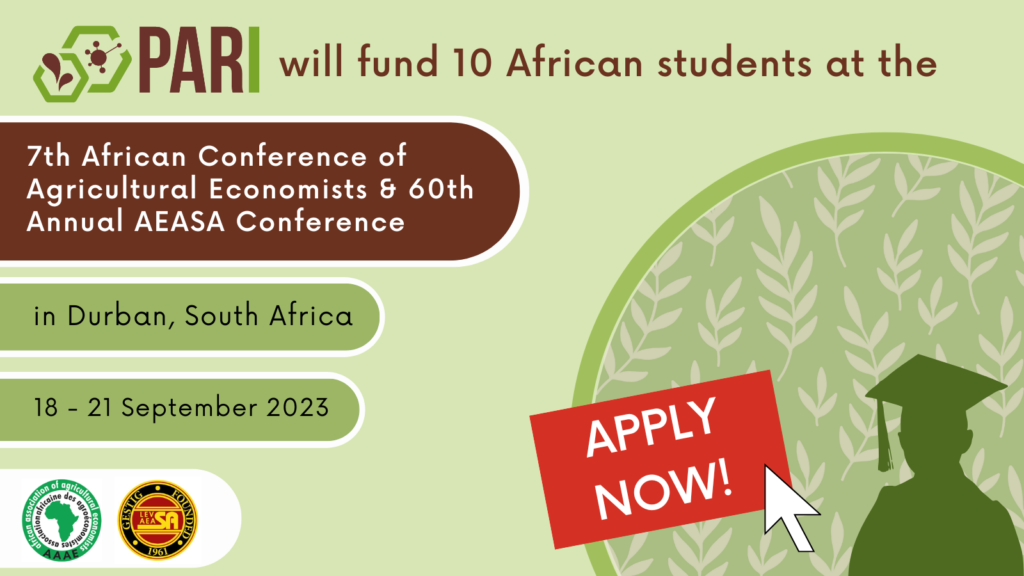 ​